Our school has 4 character traits that we teach and expect for our kiddos to show on a daily basis. They are compassion, responsibility, perseverance, and integrity.
Compassion is a hard one for kiddos. They need help seeing that their actions are sometimes unkind but they also need to learn that doing everything for someone else is not compassion either. Out of all of the character traits, compassion is the one that we have to model the most.
Here are my top 2 picks for compassion:
Clara Caterpillar by Pamela Duncan Edwards

Let me tell you, I love this caterpillar. Clara is a cabbage leaf caterpillar who is happy in her own skin. She is kind to others even when Catisha, a red caterpillar, is mean and scoffs at her. In the end of the story, Clara ends up saving Catisha from a bird and Catisha changes her tune. I always pick this one for compassion because Clara is never unkind even when someone else is mean to her. She is willing to help a friend in need but still takes care of herself.
Other Ways to Use this Book: This story is also great for teaching alliteration (there are a tremendous amount of "C" words in this book), adjectives, camouflage, and of course, the butterfly life cycle.
The Rainbow Fish by Marcus Pfister

The rainbow fish is a beautiful fish who has become conceited and unkind because of it's beauty. Another fish asks rainbow fish for one of his scales and rainbow fish of course says, "No!" He ends up losing all of his friends and the other sea creatures start to avoid him. He becomes very unhappy and seeks advice from the octopus. The octopus tells him to give out his scales. Rainbow fish follows his advice and learns that sharing and kindness with friends is far more important than things. I love teaching this book with centers and classroom games. It is a great story to model sharing and how to treat one another.
Other Ways to Use this Book: I also love to teach this story with math. Each one of my kiddos has a fish mat. They roll the dice and put that number of shiny scales (confetti) on their fish. Once the confetti runs out, they roll the dice to take away the scales.

Responsibility means you take care of you and your things. We also talk about excepting responsibility for our choices; all actions are a choice.
Here is one of my favorites for responsibility: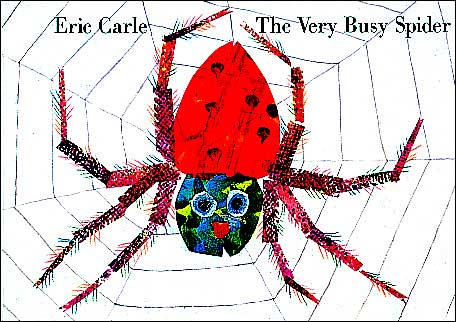 You all know by now that I am Eric Carle obsessed. This is a great story about responsibility as well as perseverance. The Very Busy Spider is about a spider who is working hard to complete her beautiful web. All of the farm animals try to distract her but she will have none of it. She keeps working along until her beautiful web is complete.
Other Ways to Use this Book: This story would also go well with teaching sequencing, a farm animal unit, and a spider unit. I love to make Elmer's glue webs on black paper.
Integrity means to do the right thing even when no one is looking. This is another one of the character traits that is hard to teach and model because idea is that you are not around when it is going on. Tricky! Very Tricky!
Here is my favorite for integrity:
No, David by David Shannon

In my opinion, sometimes the worst models are the best models. David is a little boy that just can't follow the rules. He is silly and loves mischief. This story is great for talking and laughing about all of the bad choices that David makes. Then, we always talk about what David should/could have done.
Other Ways to Use this Book: This is also a great story for introducing the 3 Ways to Read a Book with the Daily 5.
Perseverance is to keep going even when things get hard. We use this phrase a lot when we are doing something academic. I will also throw this phrase in when we are working on our Daily 5 stamina. Imagine how professional first graders feel when they know that because they showed perseverance, their stamina grew. Here are my top two picks for perseverance:
Leo the Late Bloomer by Robert Kraus

I love Leo! He is a little tiger cub that is not able to do all of the things his jungle peers can do. He keeps trying and makes lots of mistakes. Throughout the book, he watches his peers and learns. At the end, he turns into a expert because of his hard work and perseverance. Good Job Leo!
Other Ways to Use this Book: This is also a great book for teaching about individuality. I love the idea of making a flower and writing on each petal something you are good at.
The Very Quiet Cricket by Eric Carle

The Very Quiet Cricket is a sweet story about a little cricket who wants to make a sound but for some reason can't. He meets lots of friends along the way and continues to try and make sounds. At the end of the story, he finds a lady friend and wah la, he is able to make beautiful music.
Other Ways to Use this Book: This story also goes well with sequencing, an insect unit, and a music unit on different sounds.
What great ideas do you have for me?